We turn data into actions for your company. You know what's the biggest advantage of the web? Everything can be tracked, checked and measured.
Knowing the behavior of the users interacting with your channels, improving the digital experience you offer, achieving new business objectives: how many times you wished for all this?
Keeping track of everything that happens in our digital zone is a real challenge but, thanks to the consultation of our digital analytics experts, you will face it in the best possible way.
THE IMPORTANCE OF A WEB ANALYTICS CONSULTANT
We can choose to direct our decisions on opinions, assumptions and ideas that won't guarantee the right results. Or, we can choose to take the right path for our business, by choosing data. These are the compass for our journey; the ones that show us the correct direction to reach our end goal.
That's why it's essential to ask for consultancy on everything related to web analytics: every online business needs to monitor every step that occurs on its channels.
But it's not just that. The data also have to be interpreted correctly and, to do so, it's essential to consult analytics experts.
WHY RELY ON OUR GOOGLE ANALYTICS EXPERTS?
Google Analytics, as well as all the analytics tools we use, is a powerful tool to increase the potential of your business. But only if these tools are correctly installed.
Our experts, before implementing a detailed targeted web analytics strategy and measurement plan, check that the tools have been correctly configured. They detect any implementation errors making highly functioning tracking systems.
Thanks to our digital analytics consultants you'll get:
1. a clear, well-defined and high-performing strategy after highlighting the key data to monitor;
2. a constant and continuous measurement to track every movement happening on your channels, with well-defined objectives, events and metrics;
3. a detailed three-month report made with a Google Looker Studio dashboard: this way your information will be easily and quickly accessible.
Remember what we are about to tell you: data are and always will be the key to your online success, the key to fire up the engine and reach any goal, the key to travel towards the best possible direction, to get clear and measurable objectives.
WHAT DO OUR WEB ANALYTICS EXPERTS DO?
Data tell us the results of our strategies. Knowing how to analyze and understand them is the main task of our web analytics consultants, to guarantee effective, certain and clear digital marketing decisions.
The first step is to define the objectives that want to be achieved, the so-called micro and macro objectives. The second step is to define the KPIs (Key Performance Indicator) in correlation with the specific objectives. The third step is monitoring, collecting and analyzing metrics, dimensions and data based on the interactions occurred on the company's channels (be it website, e-commerce, social network, etc.)
This data make it possible to:
1. plan new successful activities and make strategies to increase the performance of the business, by having a data history that allows us to understand, comprehend and outline the best direction;
2. create the right conversion channels based on user behavior. The decisions taken into account are based on data and not on mere options;
3. properly target your investments, making the best use of the available budget;
4. measure the success achieved for each individual digital activity.
How to obtain all this? By relying on experts who will be able to seamlessly link analytics tools to your site for accurate and clear data: a structure made of monitoring and analysis from which nothing can escape.
CHOOSE DIGITAL ANALYTICS FOR YOUR BUSINESS DECISIONS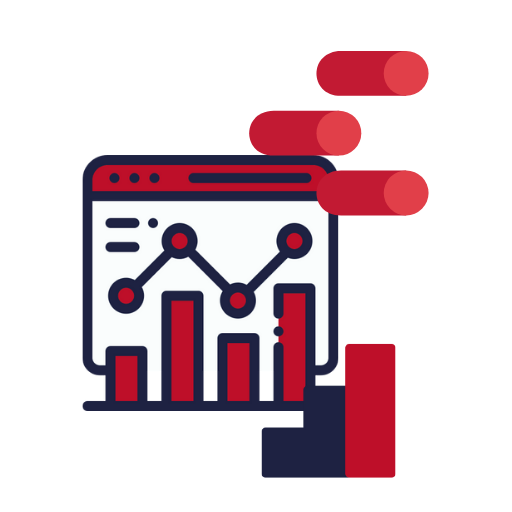 It's the biggest digital innovation. With the right tools and the consultation and expertise of our analytics experts you get the biggest online advantage: you will know everything happening on your channels. You will have complete awareness of every action you have to do, every step you need to take, every goal you want to achieve.
You have access to all the information, knowing every data with detailed analysis, for a complete and objective vision. But the most important thing we offer you is a high customization of the strategies, the measurements and the analysis we are going to perform.
One thing you have to know is that every brand has its own uniqueness and exclusivity: that's why every strategy, every analysis and every measurement is highly customized in terms of business objectives.
To do that you have to properly set up each monitoring tool for specific solutions.
BENEFITS OF WEB ANALYTICS CONSULTANTS
1. Knowing the main traffic channel from which your turnover comes from
Thanks to our analyses, studies and measurements we know exactly which channel provides you with the highest ROI, a return on investment that lives up to your expectations and goals.
2. Knowing your target audience
Thanks to data collection and analysis we perfectly know the behavior of your target audience. Here's an example: you will get detailed information about age range, gender, demographic background and lots of useful information that will help you target your strategy in the best possible way, while respecting your users' privacy. If you know your customers, if you understand their needs and find out their desires you can develop an effective digital interaction.
3. Knowing the potential of your content
We study the behavior of the users that browse your site searching for interesting contents, this way we are able to target your content strategy to the highest performances.
THREE REASONS WHY YOU SHOULD CHOOSE OUR EXPERTS
Rely on our consultants if you want to: optimize your business resources, safely invest in your digital channels, achieve the objectives you have always dreamed of. We walk together toward the best direction to reach ever higher peaks and objectives.